Don't let diabetes limit your freedom! Here are a few simple insights that will get your holiday headed in the right direction so you can travel the world with total peace of mind.
Get your diabetes medication sorted along with supporting evidence
As well as making sure that you have a good supply of medication to last the duration of your holiday, you'll need to make sure that you have a letter from your doctor explaining your condition, the medications you need and the equipment that relates to your condition. A prescription will also be of huge value if for any reason you need to get more medication while you are away.
Top tip: consider taking more than you need in case you get stuck at your destination.
All medication, delivery devices, monitors and tests should be taken in hand luggage to avoid it getting lost. Be aware that cabin crew may place these items in storage during the flight – liaise with your travel provider to find out what policies and procedures they have in place. It is worthwhile also asking what the security regulations are at any airports you are travelling through – as the 100ml limit may not apply.
Remember: you will need a letter from your doctor explaining your condition and the medications and equipment essential for you to travel with for maintaining your health and wellbeing.
Get advice about taking your medication if travelling across time zones
Long haul flights, time zone changes, and muddled up meal times can cause havoc with managing diabetes. Speak to your GP or nurse about using short-acting insulin injections whilst on holiday, and whether you need to adjust the frequency of any tablets.
Know how to keep your insulin properly stored
Don't let it freeze, and don't let it get too hot! Lots of travellers keep their stores at a steady cool temperature using a cool bag with ice packs during travel and in a fridge at the accommodation. Do make sure that the insulin isn't in direct contact with cold packs or cooling elements, it is unusable if has become frozen. Also learn to recognise when insulin has heat damage by speaking with your healthcare provider.
Insider advice: Insulin can expand at high altitudes which can lead to air pockets in the cartridge or pen. Speak to your healthcare provider about the need for "air shots" before injecting medicines.
Get specialist diabetes travel insurance
Don't get stuck with a policy that doesn't cover existing medical conditions! Our travel insurance for diabetes is designed to provide the right cover for your individual needs, including medical conditions related to or associated with diabetes such as neuropathy, heart disease, stroke, PCOS, coeliac disease and thyroid disease.
---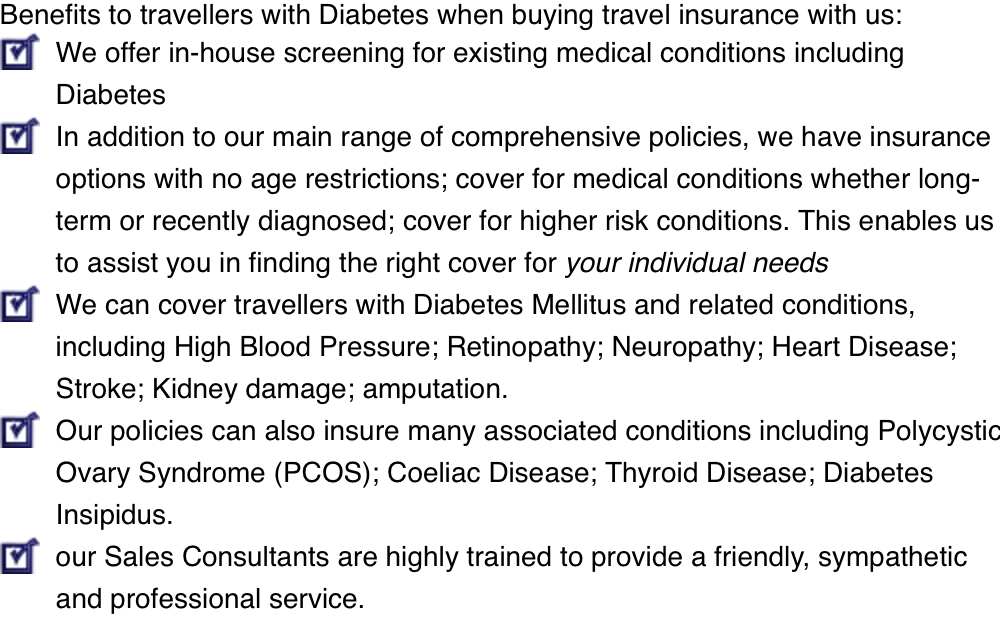 ---
Take care in hot climates
Neuropathy makes it difficult to detect when feet are burning – wear plenty of sunscreen and don't walk bare-foot on hot sand. Being sedentary in hot weather can elevate blood sugar levels, and hot weather in general can cause insulin to be absorbed more quickly too – the advice is to monitor your blood sugar levels more often.
Top tip: keep test strips and meters as close to room temperature as possible – very hot and very cold weather and direct sunlight can affect accuracy.
Take care in cold climates
Just as insulin is absorbed more quickly in hot weather, being out and about in cold weather slows absorption – until you warm up back inside or from activity. To prevent a hypo wear layers so you can adjust your temperature, and again monitor more frequently. It's also recommended to check feet regularly if you have neuropathy as the numbness will prevent you noticing frostbite in extremely cold climates.
To find out more visit our dedicated Travel Insurance for Diabetes page  or get in touch with the team on 01892833338.