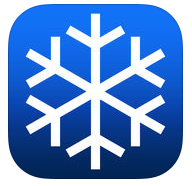 If you are the competitive sort, then you might like to raise your game next time you hit the slopes with a real-time performance app.
What is the Ski Tracks app?
Ski Tracks has been specifically designed for thrill seekers on skis! It is hailed as the ultimate skiers companion, promising to gather, track, save and analyse data collected both on-piste and off.
What can the Ski Tracks app do?
This nifty app can measure speed, distance and altitude to build up your own ski statistics. Not only can you use this info to see how your skills are progressing, you can also use it to compare your best times against other app users. Other features include:
• Photo storage of memorable moments
• Mapping tools – including 3D map support
• Health Connection
Wondering how it can do all this in some of the more remote mountainous places on the planet? It uses GPS signal, so no need for signal, just be sure to turn data roaming off. Just be aware that although the app uses "battery efficient technology" GPS is known for sapping battery life pretty fast, so turn it off when you've finished having fun!
Who is the Ski Tracks app for?
It is used by complete beginners and seasoned professionals alike. It is compatible with iPhone, Android, Apple Watch, Pebble and Magellan Echo – so if you own one of these, it is for you! Ski Tracks also works on iPad, but how many people take one of those on a black run? Finally, you need to have 79p spare to buy the app, another cost in an already budget-stretched ski break!
What do the Ski Tracks app reviews say?
Some Apple users who have upgraded to ios10 seem a little disgruntled, but the reviews on Google Play are almost completely five star.