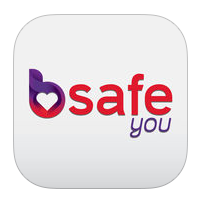 Following on from our theme earlier this month of travel safety, we thought it would be timely to feature a personal safety app. Introducing bSafe, a FREE app designed to keep you safe when you might feel at your most vulnerable.
What is the bSafe app?
It is a personal tracker packed with special features that makes it easy to let key people know if you are in a potentially dangerous situation or emergency situation.
What does the bSafe app do?
• Allows you to set up your own social personal safety network of friends, family and co-workers
• Option to share locations between your personal network members
• Follow Me is a live GPS option to enable your personal safety network to follow your route in real time, a virtual walk home
• Timer Mode gives users an option to program an automatic alarm that will trigger if you have not arrived at your destination when expected
• The I'm Here feature allows users to notify selected people of exact location
• Use Fake Call to make the phone ring when you want it to – you can even define who the call should be from
• The Guardian Alert button is an emergency button that will immediately notify your friends and family members that you need help, let them know where you are (GPS) and what's happening (video) so that they can contact the emergency services on your behalf. It even has the option to set off a siren.
What makes bSafe the app of choice for travellers?
This app is ideal if friends and family back home are going to be worried about you if you haven't been in touch for more than a few hours. Instead of having to go online, message, email, call, or update a status – knowing that you've got a button to press in the event of an emergency, or the very least at the slightest hint of danger will ease their worry. Also, it is a very good idea to ensure you can let people know where you are or where you are meant to be, just in case something does go wrong – vital if you are travelling solo.
What do the bSafe reviews say?
Both Android and iOS users have offered a very mixed bag of reviews, but overall, the app scores highly. The website states that the app is under new ownership and currently undergoing improvements, which will hopefully iron out the latest issues and bring it back to its former glory!