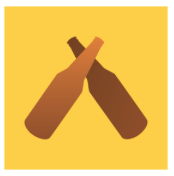 If enjoying a drop or two of the beautiful beverage that is beer on your holiday makes you happy, then you should consider downloading Untappd, a beer discovery app with a social twist!
What Is The Untappd App?
It is a kind of digital beer appreciation society. Craft beers are all the rage right now, so it comes as no surprise that some nifty coders came up with such a fab idea. A bit like Pokemon GO for social drinkers, the app offers users a chance to discover local beers, check in to brew houses, see what beers are trending and find out what other people are drinking. Drink enough of a variety and you could unlock some beer badges to show the world what a connoisseur you have become.

What does the Untappd App do?
Loads! Here we go…
Personalised recommendations
Find beers and locations
Photograph and rate beers
Share your photos and ratings
Find beer-drinking buddies
Post to all your other social networking places
Create your ultimate beer wishlist
Badges for trying different styles and drinking in different places
Why is Untappd good as a travel app?
We think it is a fun way to discover a new place, especially if you like beer! Plus, if ale is your elixir, finding the finest local craft beers on holiday will make for some very pleasurable memories indeed. If you really want to go out on a limb, you could use Untappd to create a travel itinerary based on your wishlist and personalised recommendations!
What the Untappd App reviews say
Simple, easy to use, and our favourite review said "Great App, especially for finding beers while traveling and encouraging diversity." Told you so!


Get it on iTunes
Get it on Google Play
Find out more about untappd.com