A staggering 48% of 15 to 24 year olds go away on holiday totally uninsured.
This statistic highlights the need for British youngsters to be educated about safe holiday travel, but when you consider that 24% of adults don't take out insurance either – we wonder where that information is going to come from.
So, what is going wrong?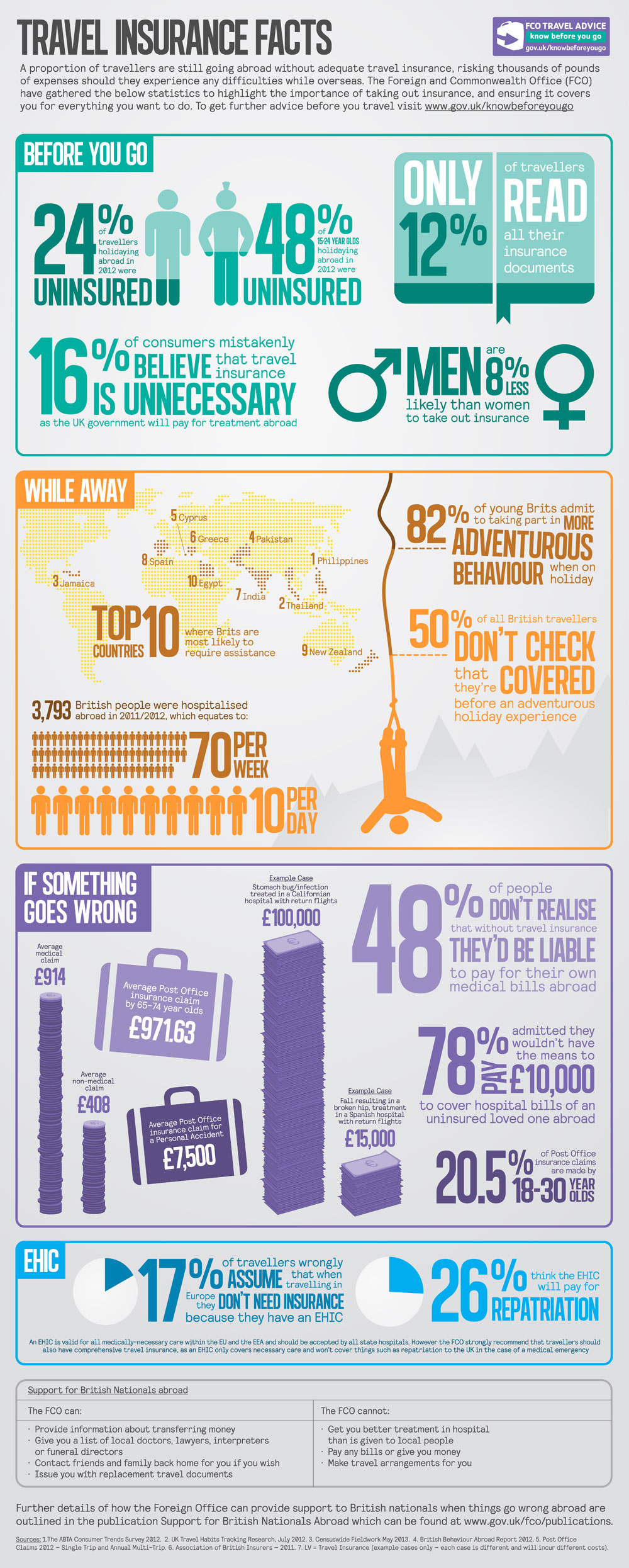 European Health Insurance Card Myths
Statistics show that misconceptions about the European Health Insurance Card (EHIC) may be to blame. While having a card entitles you to treatment abroad, it only entitles you to essential medical care to the same level as locals in that area.
EHIC will NOT cover repatriation to the UK, it will not cover the cost of an ambulance, and in EU countries where there is no National Health Service, you will be expected to pay what the locals pay to see a medical professional.
As many as 17% of Brits wrongly think that having an EHIC means that they do not need travel insurance. Whereas 26% think that the card covers repatriation to the UK.
The Cost of Accidents Abroad
Last season, nearly 4,000 British holidaymakers were hospitalised abroad. 48% of these people were statistically unlikely to know that they would be responsible for their medical bills, and a further 78% would likely admit that would not have the means to pay the costs of medical care abroad.
As an example, a fall that resulted in a broken hip and missed flights in a popular destination such as Spain could incur a bill of around £15,000. If you don't have the cash to pay bills like this, it can mean losing precious assets back at home.
Young and foolish?
Last year the tabloids were full of stories about the rise in balcony falls abroad, a mishap that seems to affect the younger generations. In just one summer three young British travellers were killed, and another 10 injured. Whilst these accidents are tragic, we can't forget the added stress that is caused at such a time if bills in the thousands come rolling in. In fact, the problem has been deemed so bad that the Foreign Office and ABTA (The Travel Association) are part of a campaign to help prevent young people from having accidents on balconies at popular holiday resorts.
Another common accident reported amongst young travellers is on a scooter. Figures released by the Foreign and Commonwealth Office (FCO) states that 82% of British tourists that hire mopeds or scooters are putting their own safety and that of others at risk. Common themes include not wearing a helmet and driving whilst drunk. The stats show that 35% don't even check their travel insurance (if they have it) to make sure they are covered for scooter hire.
Which brings us on to another trend… the rise in extreme sports and dangerous activities.
Whether it is paragliding, jet skiing, bungee jumping or coasteering, it seems as a nation, we are getting more adventurous when on holiday. Over half of holiday makers don't check if the travel insurance covers an accident while enjoying a dangerous activity, and even if they found out it didn't, they would be quite likely to just go ahead and have a go anyway.
What you can do…
The cost of travel insurance is a drop in the ocean compared to footing a hefty medical bill abroad. It can be tailored to provide cover if you think you might want to take art in an extreme sport, and it can be tweaked to meet any aspect of an adventure, whether it is for a week or a year! A family policy can also ensure that the younger generation are covered, whether they know it or not – added peace of mind at a time when you need it most.
Get in touch with our travel insurance experts today to discuss getting travel insurance for the whole family.
For more information about the EHIC and whether or not you need travel insurance when you travel to the EU, visit our previous posts for more information.
What is a European Health Insurance Card