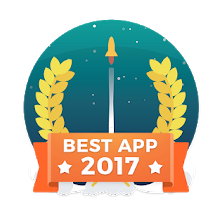 Get your linguistic lips around Memrise, a language-learning app that has more than 200 languages to choose from!
What is the Memrise App?
It's an app packed with tools and games that promise to make learning a new lingo fun, and less of a challenge.
What Does The Memrise App Do?
Lets you improve your linguistic skills with chatbots
Gives the opportunity to learn via video
Serves up games to hone your skills
Option to learn just by listening
3 levels to boost your grammar and vocabulary skills
Gives you learning stats to track your progress

Who Is The Memrise App For?
With 15 million people using it, it is tempting to say everyone! We have picked this app for its huge range of languages, and the fact that you can continue to use the resources offline. This makes it perfect for practice during a flight on aeroplane mode, or swotting up in your remote destination when you have no signal or access to wi-fi!
What Do The Memrise App Reviews Say?
It won best app on both iTunes and Google Play, and those using it do seem to love it. Bear in mind that there is a free and a paid-for version, so your experience might differ from other users.