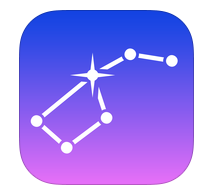 With kid-friendly destinations on this month's blogging agenda, we thought we should feature a travel app that would keep the little ones entertained. We chose Star Walk ™ because it will also help children engage with their holiday location at the same time.
What is Star Walk ™?
Star Walk ™ is an app that allows users to locate and view stars and planets in real time in a night sky map. The interactive map contains over 200,000 celestial bodies accompanied by extensive facts and information.
What can Star Walk ™ do?
Let you travel through time! Yep, as well as show real time info based on your location, Star Walk ™ has a nifty time travel button which allows viewers to see what the night sky in that location looked like in the past, and what it will look like in the future!
This personal planetarium also has a calendar of important star-gazing events so users never miss any interesting events, even when you are back home!
What do the Star Walk ™ reviews say?
That it is a fun and informative app that kids (and adults) of all ages will love. Some reviewers have identified some glitch activity, which most of the time has been sorted by a reinstall, but overall the feedback is really good.


Find out more and download the app: