Did you know that only 47% of couples take out wedding insurance?
WorldwideInsure.com were recently featured as the voice of expertise in a bridal magazine offering advice on wedding insurance, answering some common questions that brides ask about whether or not they really need the cover. We thought this advice was too good not to share here too. You can read the full article in Absolute Bridal online, page 112, or take a look at our extracts below!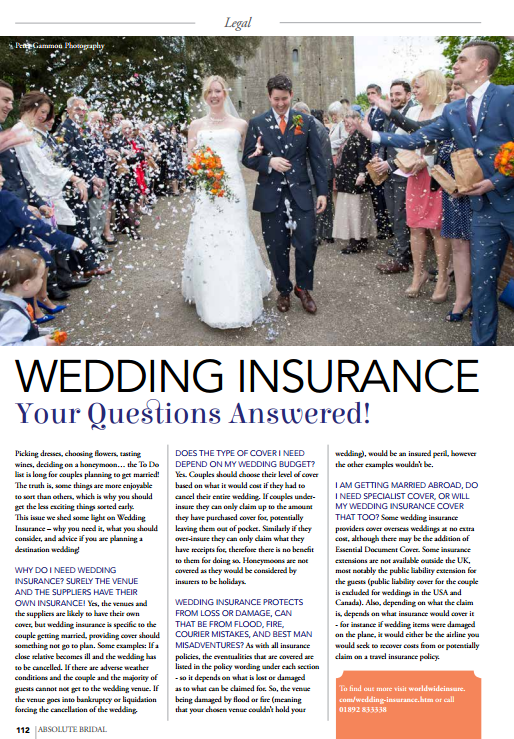 Why do I need wedding insurance? Surely the venue and the suppliers have their own insurance! Although venues and the suppliers are likely to have their own cover, wedding insurance is specific to the couple getting married…
Does the type of cover I need depend on my wedding budget? Yes. Couples should choose their level of cover based on what it would cost if they had to cancel their entire wedding. Honeymoons are not covered as they would be considered by insurers to be holidays…
Wedding Insurance protects from loss or damage… can that be from flood, fire, courier mistakes, and best man misadventures? As with all insurance policies, the eventualities that are covered are listed in the policy wording under each section – so it depends on what is lost or damaged as to what can be claimed for…
I am getting married abroad, do I need specialist over, or will my Wedding Insurance cover that too? Some wedding insurance providers cover overseas weddings at no extra cost, although there may be the addition of Essential Document Cover…
Want to know more about getting cover? Get an instant online quote for wedding insurance from WorldwideInsure.com, or call us on 01892 833338.