Going on holiday can wreak havoc with routine – great if you are looking to 'get away from it all', but not so great if you need to make sure you continue to take prescription medication at your usual time. Med Helper is an app that offers extra value by helping you keep track of what you have taken, and when, perfect when you are in a whole new time zone!

What does Med Helper do?
Med Helper has a range of features that are useful even if you aren't travelling. Its main features include:
A schedule so that you know when you are meant to take which medicine
An alarm to remind you to take your medication
An inventory so that you know when stocks are running low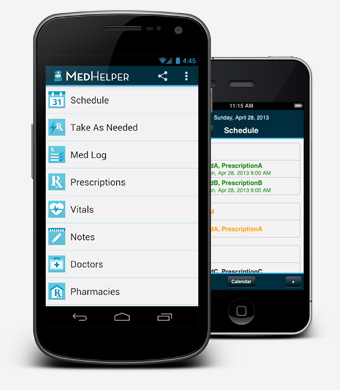 What makes it good for travelling with a medical condition?
As well as offering a way to schedule medication times, Med Helper also stores information about your prescription medicines. The prescription list feature contains details about:
Medication Name
Medication Alias
RX Number
Instructions
Reason for Medication
Description
Side Effects
In our last blog Taking Medication through Customs – Advice for Travelling with a Medical Condition, there were a number of recommendations to take information about your medication – this app has features that make keeping that information close by easy.
Additional Features
Amongst its many features, Med Helper also stores doctor and pharmacy information, dosage history, allows you to track vitals (such as pulse, weight, HbA1c, glucose, oxygen, blood pressure etc.) to manage symptoms and it has an exportable and printable reports feature.
Med Helper App Reviews
Med Helper is available for Android and iPhones/pads. Android users score Med Helper very highly indeed in online reviews – with M Stimpson stating:
"Depend upon this! I forget my meds all the time without this app. It has saved my life literally with the available list of prescriptions, dosages & strengths."
Other users include words such as Awesome, Brilliant, Simple, Helpful and Lifesaving in their reviews. Overall this app scores 4.3 out of 5 on Google Play.
Download Med Helper for Android: https://play.google.com/store/apps/details?id=com.earthflare.android.medhelper.lite
Unfortunately, the app has not had enough reviews on iTunes to be able to show a rating, but if the Android feedback is anything to go by, it is certainly worth giving it a go.
Download Med Helper for iPhone and iPad
https://itunes.apple.com/gb/app/med-helper-pill-reminder-medication/id438926478?mt=8
For more information, you can visit the Med Helper Website
Bon Voyage!