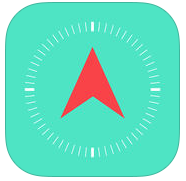 There's a new app in town designed to unite adventure seekers and adventure planners in one great big community of global adventure!
What Is Envago?
Envago is a free app that allows those seeking adventures to search by category of adventure, listed activities or by location to access a range of experiences and providers. It is also a place where adventure planners can list upcoming trips, adventures, and events.
Adventure Categories:
Air: parasailing, paragliding, skydiving, bungee jumping, zip lining, hot air balloon, base jumping, parachute.
Earth: hiking, camping, trekking, rock climbing, cycling, backpacking, running, ATV, safari, motorcycling, mountain biking, expeditions, hunting.
Water: rafting, snorkeling, diving, shark cage diving, canoeing, kayaking, rowing, fishing, sailing, scuba diving.
Rock & Ice: skiing, climbing, caving, glacier hiking, snow boarding.
Volunteer: volunteer tourism, eco-tourism, environmentally sustainable activities, archeological expedition, disaster relief, refugee camps, health and educational programs.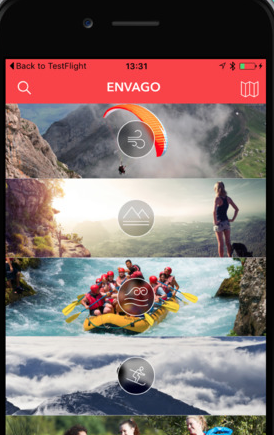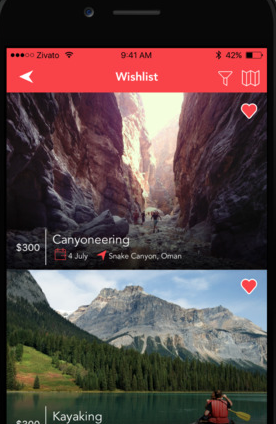 What does the Envago app do?
Adventure seekers can:
– Browse experiences by category, difficulty, location, price and date
– Book and plan adventure breaks with verified planners
– Connect with others booked on the same adventure
– Chat with groups
– Create an adventure bucket-list
– Review adventure planners
Adventure planners can:
– Register as a planner
– List and manage adventures
– Create closed or open groups
– Set the price and number in group
– Chat with team groups
– Receive payments
What do the Envago reviews say?
This app is super-new on the scene and is yet to notch up a bank of user reviews, but we are predicting it will be the next big thing in the adventure industry – it has after all been described as "the Airbnb and Uber of adventure travel".

Envago is free and available in the iTunes store. The Android version is being released soon. You can find out more about the Envago app at www.envagoapp.com