This recently revamped app has been an essential resource for travellers over the last few years, but now it boasts even better features and functionality as well as a brand new interface.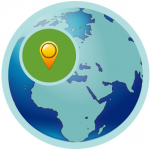 TravelSafe – what does it do
This app offers crucial information at the touch of a button for every country around the world. So, should you get in a pickle and need to call emergency services, or your embassy, you will have the numbers you need right there and then. The app also has a host of other features that frequent travellers and tourists will find useful!
Features
The majority of the functions don't need any internet connection, but there is a difference between the free LITE version and the paid for PRO version. We think that for just 99p, you might as well upgrade this easy to use app!
TravelSafe LITE – free
– Country Emergency Numbers
– Useful Country Information including voltages, plug types, tipping ettiqette, and timezones
– Tip Calculator
– Panic Button Widget that can send an SMS message to 3 registered contacts
– Currency Exchange Rate Calculator for 9 currencies
TravelSafe PRO – 99p
– Embassies information and numbers
– Country Emergency Numbers Widget
– Currency Exchange Rate Calculator for 154 currencies
TravelSafe Reviews – what the uses say!

5 star review – Great little app. Simple, easy to navigate and helpful. Was very useful to me when travelling.
2 star review – Waste of time. Only has 1-3 main emergency numbers- easy to write down/find out when travelling. UK numbers wrong, so others unreliable. LG gw620.
4 star review – Minimal but useful. @Matt UK numbers are correct (112 is a valid emergency number throughout most of EU countries
TravelSafe is available for Android only.