Halloween may be over, but that shouldn't stop you booking a round-the-world trip to take in some of the most haunted attractions in the world. We share a selection of the scariest places to visit, and some creepy places to stay!
Paris Catacombs – France
Home to the remains of around six million people, the Paris Catacombs has attracted a notorious reputation for ghostly goings-on. It opened in the late 18th Century to accommodate the remains that were once in The Cemetery of the Innocents. It is known as the world's largest grave, and is open to the public. Expect to see a rather artistic display of bones, including a heart shaped wall-piece made from skulls and tibias!

Visitez les Catacombes de Paris by mairiedeparis
The Ohio State Reformatory – USA
Ghost hunts and tours are a regular occurrence at this visitor attraction, said to be haunted by the souls of past inmates. From the time the first inmates arrived in 1896 to its closure in 1990 over 200 people died within its walls. You may be familiar with the site already as it has appeared in many films and TV shows, most notably The Shawshank Redemption. Novice Ghost Hunters and wannabe Paranormal Investigators can find an extensive list of Ghost Hunt Essentials and Tips on their website.
Island of the Dolls – Mexico
This place is exactly what horror films are made of! Here's how the story goes: A girl drowned near the island, and after her death the island's only inhabitant and caretaker found dolls washing up on the beach. He duly hung them in the trees to appease her spirit until his own tragic death. He was also found drowned in the same place as the girl. It is no surprise that the island is now a tourist attraction, with visitors bringing their own dolls to hang in the trees. Some say that the dolls have been seen to move, and even whisper. If you like this sort of creepy goings-on visit isladelasmunecas.com.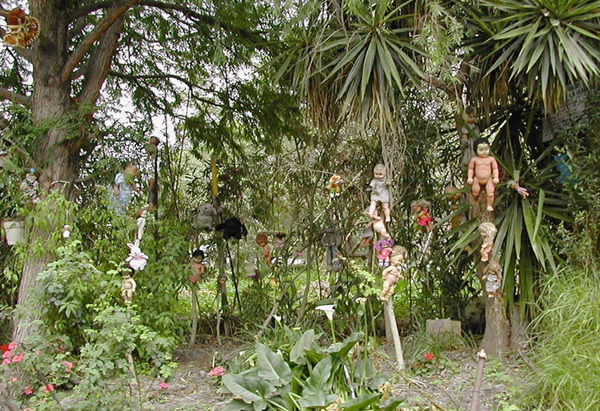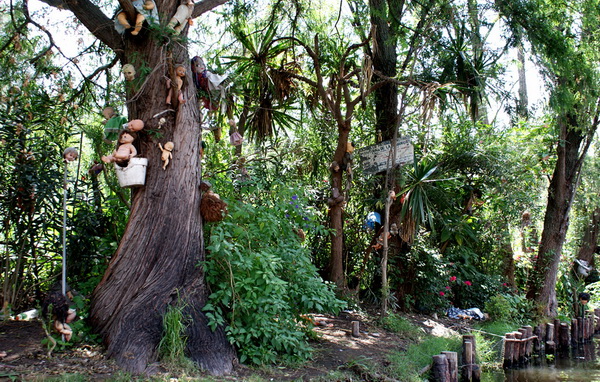 Aokigahara AKA Suicide Forest – Japan
If you go down to the woods today, you'll be in for a jolly big surprise! Visitors to this picturesque location at the base of Mt Fuji will more likely be met by a crime scene than a ghost tour. Legend says that Aokigahara first got its reputation as a ghostly place to be after elders were left here to die, the angry spirits of whom haunt the forest. Today, it has a far darker story – it attracts people who wish to immediately shift their mortal coil. The problem is so bad (reportedly 100 suicides a year) that authorities have erected signs that say 'Please consult with the police before you decide to die'. Needless to say, the presence of tortured souls attracts numerous visitors every year.
Karosta Prison Hotel – Latvia
Former prison, now a place to rest your head for the night – if you can sleep! Most of the former inmates were doomed to die, and many were shot in the head, so there are tales of haunting a-plenty. As accommodation, no luxury is spared – each room is as bare as it was when it was a prison, and comes complete with iron bars on the windows. You can even elect to be treated like a prisoner during your stay – once you have signed a hefty disclaimer form! If that's more than you bargained for on your world tour, you could just visit and have lunch.
Dragsholm Castle – Denmark
This is the oldest castle in Denmark, and has been transformed from a medieval palace to a baroque hotel during its 800-year time in a delightfully beautiful part of the world. The website won't offer any inkling of its reported ghostly goings-on, but it is famed for being home to three ghosts: A white lady, a grey lady and the 4th Earl of Bothwell whose apparition you may see ride through the courtyard with a horse and carriage!
The Schooner Hotel – UK
The Poltergeist Society has twice hailed The Schooner Hotel in Northumberland as the most haunted hotel in the whole of Britain. Among its many paranormal activities are the goings-on of over 60 individual spirits, which have been the subject of over 3,000 sightings! During its 300-year history, it has a well-documented string of grisly events that include murders, suicides and massacres. Book a room (and a ghost hunt) if you dare.