Want to see your destination through the eyes of a local? Want to hunt down the best places to see and be seen? Want to deviate from the well-beaten tourist path and explore the more exciting side of life? In that case, you'll want to get the Vayable Travel app on your phone before you go. Available for free from the iTunes Store.
What is the Vayable Travel app?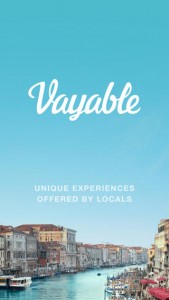 It is a simple app that achieves great things. Quite simply, you can connect with local people wherever you are and explore the best a city has to offer with custom "tourist" trips, excursions, happenings and events. We can't help but think that this app is ideal for those interested in street art tourism.
Book fun things to do with locals
List an experience
Request a trip
Give the gift of a trip to someone else
In the words of the developers, or their marketing team, "Get off the beaten path. Discover and instantly book the best local experiences in your favourite cities. All experiences are created with love by locals."
Where does Vayable cover?
Well, it certainly isn't worldwide, but it does cover a good selection of favourite destinations:
Paris
Barcelona
Istanbul
Amsterdam
Rome
London
Athens
Berlin
Dublin
Vienna
Types of experiences
The offerings are always changing, and you can always put in your own special requests. At the time of research there was a huge range including:
New York Midnight Street Food Crawl
San Francisco Scout for Street art
The Louvre in an Hour
Explore London Like A Local
Central Park Photo Tour
Learn To Eat Like A Local In Paris
Help, I don't have a compatible device!
Don't panic! You can access the full suite of services on the Vayable website – no app required!
Vayable Travel Reviews
By and large, the reviews are good, but users are unanimous in thinking it requires more personalisation and that more cities need to be added. Here are some of the high points in the reviews:
"Vayable is essential for any traveler because it puts authentic experiences at your fingertips, all delivered by local guides who have typically lived there all their lives." 5 stars by Novaurora
"Love being able to spontaneously book something from a real local. Nothing touristy here!" 5 stars by by jjwonglet
Requires iOS 7.0 or later. Compatible with iPhone, iPad, and iPod touch. This app is optimised for iPhone 5. Visit the Vayable website or download on iTunes.